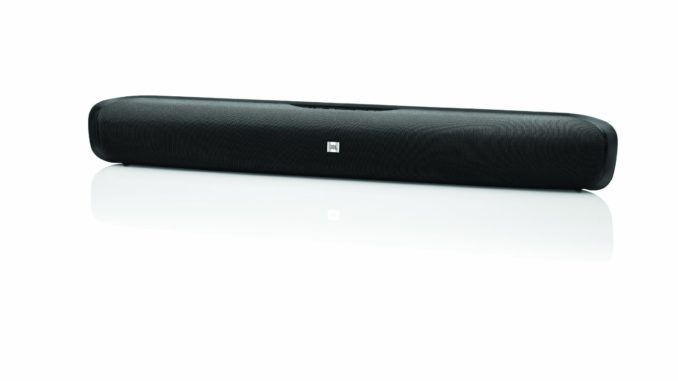 The JBL sound bar has only one optical digital input and an analog 3.5-millimeter mini-jack input. And Bluetooth. The width of 35,5 inches looks prettiest when paired with a 40 to 50 inch TV.
JBL SB200
Sound Quality -

80%

Features -

80%

Ease of Use -

80%

Build Quality -

80%
SUMMARY
JBL SB200 is simple but can stream music wirelessly via bluetooth and is a marked improvement over the usual television audio.
PLUS
Dynamic sound.
Ease of Use.
MINUS
Lacks bass.
JBL SB200 has a switch that selects between wall mount or bench placement. Setting it to bench placement compensates with a little more bass. Using the small remote control and selecting the "surround sound" mode, the timbre sounds a bit odd, despite a great sense of space, with lacking midrange which affects voices and lessen dynamics. No, ignore the surround feature!
​Although this JBL has smaller dimensions than the largest sound bars, it delivers a pretty good sound pressure in the dialogs and movies gives an entirely different feeling than from regular TV.
​It is noticeable that there is no built-in subwoofer, but it is possible to press a Bass button on the remote to get more fullness. It works fine with movies but personally I think that the bass is too pompous and unnatural for it to fit with music.
JBL SB200 engage with movies thanks to a great dynamic contrast and the ability to play really loud. Music also has a great balance in the whole tonal gamut. It lacks a bit of resolution in the treble and bass guitar feels a tad thin. But the clean midrange and impressive dynamics – even via bluetooth – make this a great buy. If you want the same sound but with more bass, you can take a look at the big brother SB400 which has a separate subwoofer.
GET IT ON eBay!
Current Price:

$71.99

Ends:

Jan 21, 2018 21:27:23 CET
Current Price:

$289.00

Ends:

Feb 15, 2018 19:30:32 CET
Current Price:

$159.99

Ends:

Jan 18, 2018 5:13:54 CET
FEATURES

SPecIFICATIONS

IN ThE bOX
• Plug-and-play solution
• Central, powered soundbar speaker
• Bluetooth connectivity
• Analog and optical digital audio inputs
• Exclusive HARMAN Display Surround
• Dolby Digital decoding
• Bass boost
• Dual-position equalization
• Dual high-excursion woofers and bass port
• TV-remote "learning" capability