The Q550 by KEF is the smallest floorstanding loudspeaker in the Q-series and costs $549.99 (MSRP) per unit. Considering how impressed we've been by KEF's more expensive models we have high expectations for this one. Let's find out how good it is…
KEF Q550
Sound Quality -

95%

Features -

85%

Build Quality/Finish -

85%

Price/Performance -

90%
SUMMARY
KEF Q550 is a true all-rounder. It impresses with its detailed, homogenous and dynamic sound.
PLUS
Detailed sound
Omnidirectional
MINUS
Not much
---
Kent Engineering & Foundry, or KEF, do things a bit differently than most other well known speaker manufacturers, but they have always managed to provide us with exceptional sound quality at a price level that most people can afford. This is particularly true with the new generation of the Q-series, and for this generation, the overall design has been revamped with a more contemporary and straightforward look.
The Q-series consists of six models in different sizes; the Q150 and Q350 bookshelf models, which can be used as either left and right surround speakers or as main speakers in a smaller listening room, and the Q550, Q750 and Q950 floorstanding models. The Q550 is the smallest floorstanding model in the series and measures only 926x299x310 millimeter (HxWxD) and uses 5.25 inch (130mm) drivers. The series also includes an active subwoofer, Q400B, although this model has not been revamped from the previous generation, but still looks good together with the new generation of speakers though.
Design and Build Quality
As we mentioned, KEF has gone for a more contemporary and modern look, but still manages to retain a traditional feel. The finish is made of some type of plastic film and comes in either black or white. It has a somewhat brushed texture to it and looks really good. Small details like the recessed tweeters and the hidden screws makes it look very clean and this classic yet modern design should go well with most living rooms.
The bottom is fitted with 'feet' (plinths) using height-adjustable spikes at the ends enabling you to adjust the level (with the included Allen key) on uneven floors. The high quality speaker terminals accept anything from bare wire to spades or banana connectors.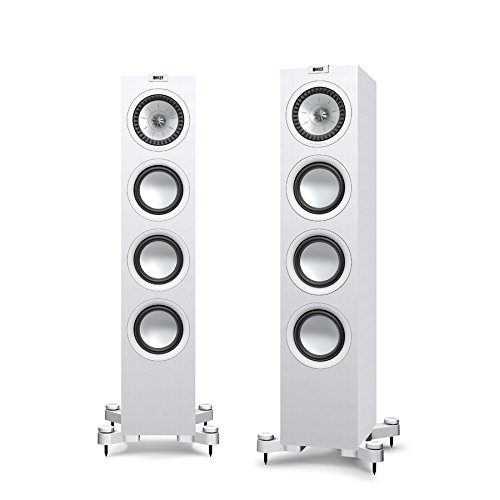 The Magic of The Uni-Q Driver
As on most of KEF's speakers you will find their renowned Uni-Q driver handling the highs and mids of the Q550 – in this case a 5.25 inch coaxial midrange/tweeter. By placing the aluminum tweeter in the midrange cone you can optimize the time alignment between the two drivers and minimize any phase issues you'd normally get when you use a traditional tweeter and midrange configuration. This also improves the omnidirectional response which should mean that the sound stage and frequency response stays consistent even if you move away from the 'sweet spot'. The tweeter also utilizes a Tangerine waveguide to minimize any interference between the tweeter and the midrange driver.
The engineers at KEF has managed to dampen the cabinet without sacrificing too much volume, allowing the drivers to operate with minimal pressure being built up inside the cabinet. This should translate to a cleaner sound with less distortion.
Bass duty is handled by a 5.25 inch aluminum woofer and two 5.25 Auxiliary Bass Radiators (ABR), supported by a reflex port with an extra tunnel that reflects the sound out the back of the speaker.
Sound Quality
Oh, my… It's always a treat to listen to KEF speakers and the Q550 is no different. First impression is how detailed and homogeneous they sound. This is clearly evident with string quartets; life-sized, dynamic and agile. Everything is placed where it's supposed to be within the sound stage and the relative sizes between the instruments is preserved. Bass instruments are never overblown to the point where they overpower the other instruments while also being agile enough to start and stop on a dime. Lead instruments, like violin, flute and electric guitar, are reproduced with excellent dynamics and textures and also serves to demonstrate the high resolution of these speakers. And it can play surprisingly loud despite its relatively small size.
Now, it's one thing to read about the benefits of the Uni-Q driver, but another to actually experience it in real life – no matter where we positioned ourselves, the width, depth and frequency response stayed the same, proving that these small Q's have excellent omnidirectionality.
It didn't matter what type of music we played, be it Mozart or Metallica, the Q550 was always versatile and convincing, proving that KEF once again is on to something.
Conclusion
KEF Q550 is a true all-rounder. It impresses with its detailed, homogeneous and dynamic sound, and rarely do you come across a pair of speakers that makes you smile (or cry, if that's the artist's emotional intent) this often. We have no problems whatsoever to recommend the Q550 to anyone looking for an awesome pair of speakers.
GET IT ON eBay!
Current Price:

$970.00

Ends:

Jan 8, 2018 4:53:25 CET
Current Price:

$498.00

Ends:

Dec 31, 2017 20:10:26 CET
Current Price:

$485.00

Ends:

Jan 11, 2018 4:54:00 CET
Uni-Q 'single point source' driver array disperses clean and accurate sound more evenly
Damped Tweeter Loading Tube for detailed and natural HF performance
Floorstanders and center speakers (Q550, Q750, Q950, Q650c):
- Closed-box midrange cabinet to reduce the load on Uni-Q driver for less distortion
-Low-distortion inductor on crossover
-LF driver and ABRs (Auxiliary Bass Radiator) for deeper and tighter bass reproduction
Bookshelf speakers (Q150, Q350):
-Centrally-positioned driver reduces resonance and improves clarity
-CFD port design at rear of speaker improves bass performance and midrange accuracy
Seamless baffles with magnetic grilles
Available in black and white satin matte finishes
| | |
| --- | --- |
| MODEL | Q550 |
| DESIGN | Two and a half-way bass reflex |
| DRIVE UNITS | 130mm (5.25in.) aluminium Uni-Q 25mm (1in.)vented aluminium dome HF 130mm (5.25in.) aluminium LF 2 x 130mm (5.25in.)aluminium ABR |
| FREQUENCY RANGE FREE FIELD | 45Hz (-6dB) |
| FREQUENCY RESPONSE | 58Hz-28kHz (±3dB) |
| CROSSOVER FREQUENCIES | 2.5kHz |
| MAXIMUM OUTPUT | 110dB |
| AMPLIFIER REQUIREMENTS | 15-130W |
| SENSITIVITY | 87dB (2.83V/1m) |
| NOMINAL IMPEDANCE | 8 Ohms (min.3.5 Ohms) |
| DIMENSIONS | H x W x D: 873 x 180 x 278 mm 926 x 299 x 310 mm (with Plinth) |
| WEIGHT | 14.5kg (32 lbs) |
| UNIT MEASUREMENT | Pair |
KEF Official Website