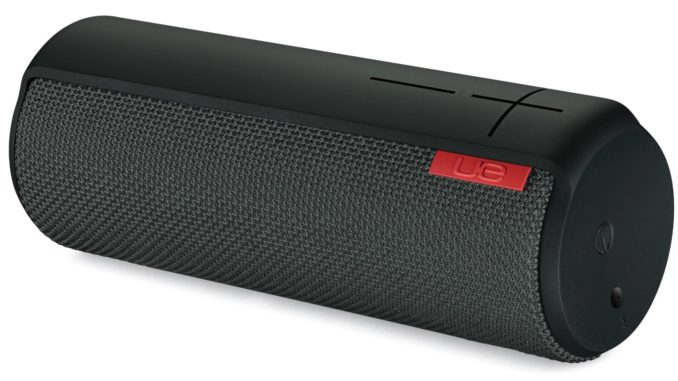 The rule is that small speakers sound small. But not this little fellow. Ultimate Ears small wireless speaker unit is called BOOM for a reason.
Logitech Ultimate Ears BOOM
Sound Quality -

89%

Features -

80%

Ease of Use -

78%

Build Quality -

88%
SUMMARY
It is no bigger than a large can of beer, but the wireless Logitech UE Boom speaker plays with great conviction.
PLUS
Plays surprisingly loud.
Rich sound and potent dynamics.
Good battery life.
Humidity protection.
Can play in stereo pairs.
MINUS
Costly.
No cover for the charge and audio inputs.
The small battery powered speaker - that plays music up to 15 hours - is no larger than a pint of beer, but sounds like a whole keg. Ultimate Ears claims that the maximum sound pressure is 88 dB, and that´s very high for something so small!
Boom is available in several different colors and distribute the sound 360 degrees using two 1,5″ drivers, and a pair of 2″ passive drivers to helps in the bass. There are two drivers on each side.
​Connection to smart phones is done wirelessly, either with bluetooth or using the free app UE BOOM available for iOS and Android, which has a particularly convenient feature: you can choose double wireless connection of two speakers. They can play left and right channel in stereo or 2 x mono if they are not near each other.
​Boom works beyond all expectations. Even a single speaker sounds dynamic and captivating. There´s no deep bass and the treble could be airier, but the sound is still rich and potent. A single Boom simply fill the room with music and two works as stereo speakers unless the room is too big.
​Voices appear clearly, and you can even hear small details in the sound. Amazingly, it all gel together even when playing (relatively) loud. Even then the sound image is defined and almost free from distortion.
​UE Boom is well constructed and is water resistant. It is robust enough to carry around in a bag and rattle around among other gadgets. Unfortunately, there is no rubber cap that covers the USB port, which is used to charge the battery, and audio input jack on the bottom. If it's on purpose or just overlooked by Ultimate Ears we do not know, but it's on the other hand the only bad thing we have to say about this well made bluetooth speaker.
​The relatively high price can be justified by the Boom's solid construction - but if you want two of them to play in stereo, it´ll cost a hefty penny.
​Anyway, UE Boom is one of the best bluetooth speakers we've tested so far. And definitely one of the coolest.
GET IT ON eBay!
Current Price:

AUD $347.99

Ends:

Jan 18, 2018 0:43:22 CET
Current Price:

$12.33

Ends:

Jan 19, 2018 4:57:34 CET
Current Price:

$31.00

Ends:

Jan 18, 2018 7:00:10 CET
Make Some Noise: UE BOOM is the 360-degree speaker that drops bold, rich resonant sound in every direction with exceptional bass size.
Up for Anything: UE BOOM has a versatile, go anywhere shape that is designed to be spontaneous
Life-Resistant: Colorful acoustic skin with plasma coating makes UE BOOM water and stain resistant
Live Wirelessly: Switch songs, adjust volume and take phone calls from up to 50 feet away. The rechargeable battery has 15 hours of playback
Double Up: Wirelessly connect two UE BOOMs together in stereo via the UE BOOM app to spread the sound and pump up the volume. Please refer to compatbility information present below.