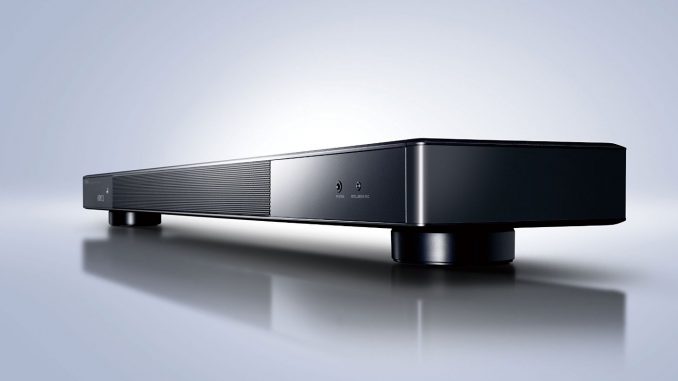 Yamaha YSP-2500 uses a full 16 speaker drivers, radiating in different directions and use the walls and ceiling to reproduce surround sound. It includes a microphone that is placed at the listening position, then automatically calibrates the sound with the push of a button.
Yamaha YSP-2500
Sound Quality -

85%

Features -

90%

Ease of Use -

80%

Build Quality -

84%
SUMMARY
Yamaha uses advanced sound processing and does a good job of spreading the surround sound in the room. But the subwoofer has its shortcomings.
PLUS
The advanced surround processing creates a natural and big virtual surround sound.
MINUS
The subwoofer plays both midrange and bass, and quickly runs out of juice.
---
Three HDMI inputs are enough to connect a blu-ray player, gaming console and cable TV box, for example.
Bluetooth with aptX provides better sound with compatible players.
There are several DSP modes to choose from. It sounds fine even without DSP, but when you watch movies, modes such as "Adventure" adds a little extra emphasis of the sound effects.
The subwoofer is filtered too high and plays nearly the entire midrange except bass. Therefore, place it in the vicinity of the speaker, otherwise you´ll hear were it stands.
The "Clear Voice" mode can be left on all the time, because the function does exactly what it says, making voices a little clearer. The effect is not huge, but enough for it to feel a little closed-in when the feature is turned off.
The virtual surround sound effect is natural, with no problematic phase anomalies. It is obvious that Yamaha has been working a lot with the signal processing to give a good impression of true surround.
​Conclusion
All the sound bars/plates we´ve tested lately has compromises, and we do not think that Yamaha YSP-2500 has fewer than any other purely sonically. You pay some extra for the room correction, but the Samsung HW-H750 is about as good and therefore an even better buy.
True 7.1-channel surround sound for incredible realism
Wireless subwoofer provides rich bass with flexible placement
Bluetooth® wireless music streaming from a smartphone or tablet
Easy set up with three HDMI® inputs
Incredibly slim design with luxurious, brushed-metal finish

• Easy-to-see on screen menu viewable in 10 languages (English, Germany, French, Spanish, Italy, Swedish, Dutch, Turkish, Japanese and Chinese)
• Memory function for recording up to three of your favorite settings
• ECO mode for energy conservation
• Optional accessory: SPM-K20 wall mount bracket for wall mounting
• UniVolume™ maintains the same volume level


• Audio delay for adjusting Lip-sync (0-500 ms)